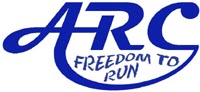 ARC is the fully democratic and accountable governing body for running clubs, providing what they need at lower cost and without unnecessary regulation or paper heavy systems
The Association of Running Clubs
· Annual affiliation fees – We keep annual affiliation fees as low as possible.
· Insurance – we will provide a comprehensive civil liability policy with improved cover for the coming year.
· Race permits – we will issue race permits upon receipt of satisfactory applications
· Race Fees for 2013/2014 – Affiliated Clubs pay just £25 for each permit issued with nothing further to pay after the race. Associate Member fees are in the Fee Schedule displayed under Races/Permits.
· Minimum bureaucracy – we don't require the personal details of your club members
· No unnecessary controls – we won't impose the use of licensed officials at your race
· Advice and guidance – on matters relevant to your activities
· Full democratic control – Directors will be elected by the member clubs
Email - info@runningclubs.org.uk