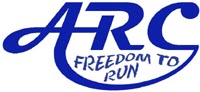 ARC is the fully democratic and accountable governing body
for running clubs, providing what they need at lower cost
and without unnecessary regulation or paper heavy systems

ARC is making available a selection of items featuring the "Freedom to Run" logo which we hope may prove attractive to your members. Please help us to promote your Association and its benefits by drawing their attention to our web shop which can be accessed at:-
ARC Merchandise
ARC does not accept responsibility for failure of any supplier
to deliver any contract for the supply goods or services

ARC Rankings - Top performances in ARC races -
CLICK HERE and then select the ARC logo on the menu page

Important Note

In view of the number of ARC permitted events which had to be cancelled because of Covid restrictions in the year ending 31 March 2021, ARC will credit the event organisers with the Permit Fee which can be applied

· to the same event in year ending 31 March 2022

Or, if that event is not being staged in that period

· to any other event, staged by the same organising body during that same period
The Association of Running Clubs
· Annual affiliation fees – We keep annual affiliation fees as low as possible.
· Insurance – we will provide a comprehensive civil liability policy with improved cover for the coming year.
· Race permits – we will issue race permits upon receipt of satisfactory applications
· Race Fees for 2023/2024 – Affiliated Clubs pay just £25 for each permit issued with nothing further to pay after the race. Associate Member fees are in the Fee Schedule displayed under Races/Permits.
· Minimum bureaucracy – we don't require the personal details of your club members
· No unnecessary controls – we will provide liability insurance for your run leaders, coaches and officials who are qualified by experience"
· Advice and guidance – on matters relevant to your activities
· Full democratic control – Directors will be elected by the member clubs
Email - info@runningclubs.org.uk