Membership Growth 2007 to 2015
We have grown from 116 clubs/organisations in our first year and enjoyed continuous growth every year with currently more than 300 clubs/organisations (see table below). We expect growth to continue.
| | |
| --- | --- |
| Year | clubs/organisations |
| 2007/2008 | 116 |
| 2008/2009 | 145 |
| 2009/2010 | 165 |
| 2010/2011 | 202 |
| 2011/2012 | 227 |
| 2012/2013 | 272 |
| 2013/2014 | 301 |
| 2014/2015 | 310 |
---
- Advice for runners from Lyme Disease Action
From veteran marathon runners to recreational joggers, from people who run in urban parks to those who prefer to take more extreme routes, charity Lyme Disease Action asks all runners to be tick-aware when out and about this spring and summer.
Caused by the bite of an infected tick, Lyme disease is found across the UK, in city parks (such as Richmond Park in suburban London) as well as in rural areas. Carried by deer, small mammals and birds, ticks (whose population peaks from April to October) are able to sense a passing potential blood donor by picking up the carbon dioxide that humans exhale. They hook their legs onto clothing or skin and hide in warm, dark corners of the body. Tiny – the size of a fullstop – ticks can easily go undetected and their bite does not cause irritation, because they inject their host with an anaesthetic.
Lyme disease causes a range of unpleasant symptoms which may include a circular red rash, headaches, a stiff neck, extreme fatigue, muscle and joint pain, and disturbances of sight, hearing, digestive system and sleep. If left untreated it can progress to the joints, the heart and the nervous system.
There's no need to be afraid – it's more a case of being aware; knowing how to reduce the chances of being bitten, how to remove a tick and knowing what to look out for in the way of symptoms.
To reduce the risk of being bitten by an infected tick, Lyme Disease Action advises runners to take the following precautions:
• Try to avoid stretching out on long grass
• Ensure you brush your clothing and bare skin off before going indoors
• Use an insect repellent effective against ticks (look for those containing the chemical DEET)
• Check for ticks regularly and very carefully when you wash or shower after a run
• Try to avoid running through areas of long grass or bracken
• Remove any ticks found attached as soon as possible
Tick removal
Ticks should be removed immediately with a tick removal tool. Do not try to pull the tick out with your fingers, burn the tick or cover it with creams or chemicals. If you don't have a tick removal tool, use a thread of cotton wound round close to the skin and pull upwards or, alternatively, cut a slit in a plastic card and slide that under the tick's body. This reduces the risk of squashing the tick's body and the rick regurgitating the (potentially infected) contents of its stomach directly into the bloodstream of the host (the human).
Treatment
If you have been bitten by a tick and notice any of the above symptoms, seek medical help straight away. Diagnosed and treated early, Lyme disease can be treated successfully with antibiotics. NB tick bites do not itch like mosquito bites, so awareness is important to aid diagnosis.
Much more information is available on the Lyme Disease Action website (www.lymediseaseaction.org.uk). Lyme Disease Action is a charity striving for greater awareness of Lyme disease and associated tick-borne diseases.
Ends – 30 April 2014
Note to Editors:
A Lyme disease poster, showing how to remove a tick correctly, and leaflets on Lyme disease, are available for publication if required or, free of charge, for readers to take to their own local GP, veterinary practice or running club. A fact sheet is also available on request. Tick removers can be ordered via the Lyme Disease Action website (www.lymediseaseaction.org.uk) and cost from £4.99 including p&p.
Press: Issued by Lyme Disease Action's press office (www.lymediseaseaction.org.uk).
For more information, case studies or to speak to Stella Huyshe-Shires, the Chair of Lyme Disease Action, please contact Sue Ockwell or Helena Hamlyn via email – press@lymediseaseaction.org.uk – or ring 020 8891 4440.
---
Ian Vaughan-Arbuckle has taken over responsibility for ARC Championships with immediate effect. He is looking for clubs to stage some championships in 2014. Please see the
Championships page
for details.
---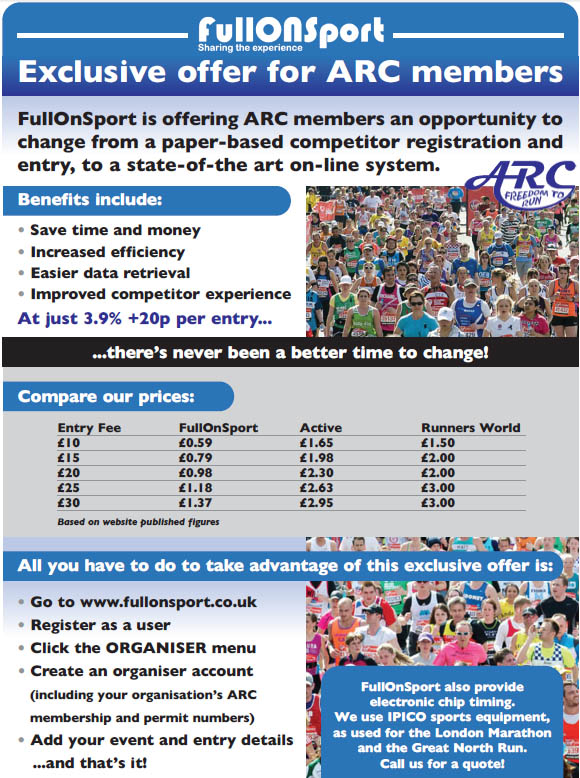 For further information contact: steve@fullonsport.co.uk | 01935 426779
---
Your committee is keen to explore the possible production of a newsletter for ARC members. The idea is for a regular electronic production, perhaps every 4 months or so, to be sent direct to each club. Distribution to individuals would have to be effected by clubs since the ARC does not hold individual contact details.
The newsletter would contain a variety of general interest articles on running, a photographic competition, regular contribution from committee members, reports from member clubs on races, member spotlight, training tips, letters/forum, diary, ARC championships and other articles of interest.
Before embarking on a project of this magnitude, it will be essential to know whether the idea is wholeheartedly supported by members. We have already mailed your club to seek their views, but the opinion of individual members would also be very welcome. If you would like to comment please do so using the following email address: newsletter@runningclubs.org.uk
Yours in sport,

Ian Vaughan-Arbuckle.

Committee Member.
01929 426956
---
Concerns have been raised in the media recently over the threat to ash trees in the UK following the identification of the potentially deadly disease of Ash Dieback (Chalara faxinea)
British Orienteering has issued the following advice to all clubs on the biosecurity measures that should be taken by all orienteers (i.e Planners, Controllers and control hangers, as well as competitors) when holding or participating in an area suspected to contain Ash trees:
Thoroughly wash all footwear before leaving the area, ensuring that all mud, soil and leaf litter is removed. Event organisers may wish to provide water, buckets and brushes at a suitable location i.e at a point where there is little risk of further contamination.
On returning home rinse all boots and shoes in a chlorine based cleaner or garden fungicide and allow them to dry thoroughly. N.B please read the manufacturer's label and follow their instructions on use and disposal of the product.
Thoroughly wash and dry all kit and any other clothing that may potentially have been contaminated with fungal spores.
Clothing and footwear should not be reused for at least 48 hours after drying.
Whilst it is currently thought that the disease is restricted to East Anglia and the South East of England, this position may change as Forestry Commission pathologists and surveyors enter more woodlands
Peter Brett, Environment Officer.
---
ARC Affiliation and Fees after 1st April 2013
Q. What are the fees for races and events organised by ARC Affiliated Clubs ?
A. Affiliated Clubs will pay a fee of £25 for each Race or Event Permit issued. They will pay nothing more after the race or event.
Q. What are the fees for races organised by ARC Associate Members ?
A. Associate Member races will pay the fees set out in the Schedule of fees attached to the Permit Application for Associate Member races and also published elsewhere on this website. These fees approximate to those currently charged by ARC and are some 25% less than those charged by UKAthletics.
Q. What is the situation regarding the £2 unattached runner levy ?
A. Races must continue to surcharge runners who do not belong to a club affiliated to ARC or UKAthletics. However races will now retain the whole of this levy for their own purposes.
Q Can clubs whose members participate in both track and field and road running affiliate just their road running section to ARC and pay ARC affiliation fees based on just the number of those in their road/trail/cross-country/fell running section ?
A. Yes
Subject to approval at ARC AGM on 17.11.12
---

Andy and Kate Bleasdale


Andy O'Sullivan, MBE is arguably the World's Most Prolific Unpaid Race Organiser! Andy, 59, has organised a staggering 529 races, all for Charitable purposes. The Former Rochdale Policeman, first started organising races from his local pub in 1983. The self confessed extrovert told ARC. ' I did Cross Country at School, then I switched to boxing, as soon as I could I joined the Rochdale Police Force, long hours and dedication meant that my fitness suffered'.

In 1982 I ran in a 7 mile Fun Run from Rochdale Town centre, really enjoyed it and was bitten by the Running Bug! In September 1983 I was persuaded to stage a 5 mile race from the 'Local'. Two Dozen Saudi Arabian Cops took part and it raised £366 for 'A Hospice For Rochdale Appeal'. I was on my way!

I have staged as many as 38 races in one year, and in 1991 I was awarded the British Empire Medal for Community services to Athletics. In 2004 I was one of only 3 people from the North of England to carry the Olympic Torch in London, it was a great experience mingling with lots of Olympic Gold Medallists! My 'Stint' was in Peckham, Only Fools And Horses?????

On 31st December 2004 I was appointed MBE for services to Athletics and on my visit to Buckingham Palace I finished my conversation with Prince Charles, stating 'My Knees are in Fine Fettle'! I really enjoy organising these races and have made great changes to the Courses, this minimises People power and maximises safety of all concerned. The bulk of the races are now round reservoir's.

I am delighted to join ARC and look forward to working alongside people who love the sport! Details of these races are on www.ukresults.net
---
ARC now has a ranking system for top athletes. Top performances over standard distances for ARC permitted races will be available on the following link:-
---
Suspension Notice

The result of a Case Management Decision is publicised on the UKAthletics website
ROBERT SLOAN - ATHLETE - 1st December 2011
Following an investigation by England Athletics, an Independent Disciplinary Panel chaired by Mr Walter Nicholls (Solicitor) met on the 3rd November 2011 to consider allegations of misconduct against Mr Robert Sloan, an athlete formerly with Sunderland Harriers.
The outcome of the hearing was that Mr Robert Sloan is to be suspended from all competition or from taking part in any event organised or run under UKA rules of competition for a period of 6 months dated back from 9th October 2011. Mr Sloan declined the opportunity to appeal the panels decision, the suspension will cease on Monday 9th April 2012 at midnight.

ARC has decided that Mr Robert Sloan is ineligible under ARC Rule 1 (2) to take part in competition under ARC Rules. Mr Sloan's ineligibility to compete will cease on Monday 9th April 2012 at midnight.